Testimonial
Dr Harold Peeples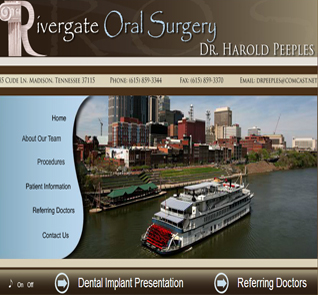 "When I went to the AAOMS meeting this past Fall, I went with the intention of finding out as much as I could about building a website for my practice. I was introduced to OMSwebsites and quickly became comfortable with the rapport established between myself and your staff. The entire process was seamless and non-threatening to this neophyte in most things technical! Your staff guided me through the process to my great satisfaction. I was allowed to select specific features that I wished to incorporate into the site and your staff fine-tuned the layout in such a way that I am very pleased with.

I feel that I now have a powerful and unique tool for introducing my practice to the public in a very positive and highly professional light. It allows me to not only clarify such services as implants and anesthesia but, also streamlines the initial visit with down-loadable administrative forms that can be completed prior to the patient's arrival.

It also allows me the ability project the image I wish to portray to my customers (both patients and referral practices). The implant videos are an educational tool that I know to be well-worth the investment as I've had many favorable comments from both patients and referral doctors. My biggest regret is that I did not take this step sooner."
Dr Harold Peeples,DDS, MBA
Rivergate Oral Surgery
www.rivergateoralsurgery.com

Cynthia Satko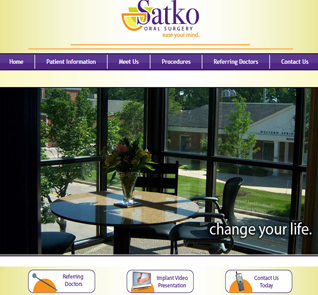 "In today's day and age with dentistry, you need to have a website for patients, referring doctors, and potential patients to look at and gather valuable information about their health.

We recently decided to work with OMSwebsites has made all the difference. OMSwebsites went above and beyond in designing a custom One-of-a-Kind Website and making any modifications that are needed. Our website is one of a kind and it reflects our one of a kind service in Oral Surgery."
Cynthia Satko,DDS, MS
Satko Oral Surgery
www.drsatko.com

Dr. John P. Schmitz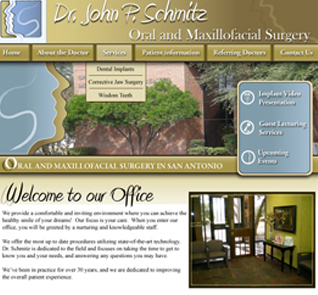 "I was originally contacted by OMSwebsites via an email announcement.I have to admit that it took a long time before I realized that every practice needed its own website that was professionally developed, had innovative and proven video information, and contained marketing material that worked.

I quietly watched on the sidelines when other Doctors I know solicited novices to design and implement websites for them.

Some were developed using material that someone "thought" worked. Some of it was even material that the doctor developed himself. This is, of course, like taking out a full page advertisement in the New York Times and being surprised when no one responds.

We are doctors and we treat patients. Marketing, and in particular website marketing, should be left to website marketing professionals (like those at OMSwebsites), not someone who got their computer website training and has no clue about marketing and communication - you get what you pay for! The end result is about the hits, responses, informational notes, patient exams, and cases you get that go to completion.

I constantly get comments from patients who say they "checked me out" on my website. Many feel greatly relieved that they were able to obtain material before their appointment. The innovative and informational videos are "award-winning" and patients love them. The website development process is very simple and usually takes 90-120 days before you are up and running. The OMSwebsites team is awesome and always willing to help. I know this may sound funny - but the team at OMSwebsites are my heroes."
Dr. John P. Schmitz,
Dr. John P. Schmitz
www.drjohnschmitz.com


Get Your Free Website Evaluation Today